Modern Bedding Sets for Teen Boys – The Hottest & Coolest Designs 2017
Modern Teen Boys Bedding Sets
These are all my favorite modern bedding sets for teen boys.  I know its difficult to find the right bedding set for teenage boys sometimes because their taste can be on the opposite side of the decor spectrum when it comes to designing a bedroom. Popular modern colors for a teen boys room include gray, blue, red, black and white (or any combination of). Here are a couple of favorites for teen boys:
Loft Style Houndstooth Ultra Soft Microfiber Bedding Comforter Set, Gray, Twin
My Room Number Time Ultra Soft Microfiber Boys Comforter Set, Gray, Twin
My Room Extreme Skateboarding Boys Comforter Set With 180Tc Sheets, Gray, Full
Rock Star, Guitar, Keyboard, Skull, Twin Comforter Set (6 Piece Bed In A Bag)
More Modern Bedding Sets for Teen Boys
Call Me Anytime Teen Boy Bedding Set
This is my teen boys favorite bedding set.  This is the coolest teen boys bedding set if you have one that is totally into technology and wants something unique and hip.  This cool duvet cover is something that is sure to rock the bedroom with a cool and contemporary style. What's cool about this modern teen bedding ensemble is that it comes with all the stuff you need to create this awesome look.  The sheet set is one of the coolest parts of this trendy teen boys bedding set in my opinion.
Le Vele LE296Q Bedding Duvet Cover Set, Full/Queen, Call Me
Extreme Sports Teen Boys Bedding Set
This extreme sports themed teen boys bedding set features skateboarders, snowboards and BMX bikers in a variety of masculine colors to tear up the bedroom scene.  It's a cool look that showcases the skateboarding and extreme sports lifestyle.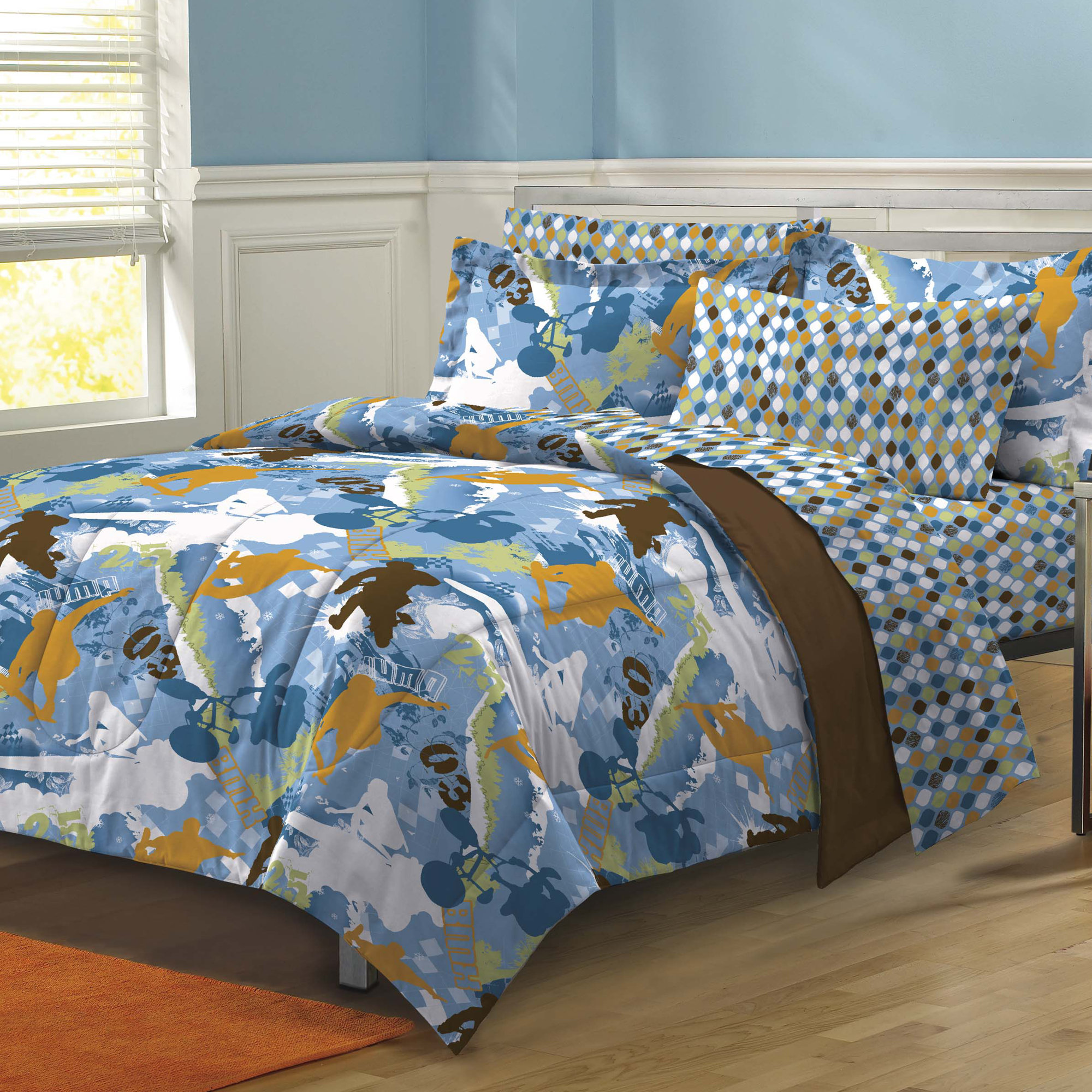 Extreme Sports Modern Teen Boys Comforter Set
Modern Blue and White Teen Boys Bedding
This navy blue and cream white bedding set features a look that teen boys can live with and adapt their style too. Teen boys can be somewhat resistant to change in their bedrooms; choosing a modern and neutral bedding set like this can really make the difference. This modern blue and white stripe teen boys bedding set features a look that is simple, yet very cool.
Blue and Cream White Modern Stripes Bedding Set
Modern Blue Stripe Beach Style Bedding for Teen Boys
I love this modern blue stripe beach style bedding because it has a look that says the ocean is right outside. The different shades of blue stripes on the white background gives this a modern a look using a vintage design. Any teen boy could live with this look and its very universal if you are going for a surfer or ocean beach theme in their room. One of thecoolest Modern Bedding Sets for Teen Boys!
Ink + Ivy Connor Comforter Set, Modern Beach Style
Modern Geometric Hexagon Teen Boys Bedding
This modern blue teen boy bedding set features a really cool geometric pattern that appeals to everyone. The dark gray against the geometric hexagon pattern really brings out the cool factor in this bedding set.  It's a bedding set that a teen boy could definitely find himself liking.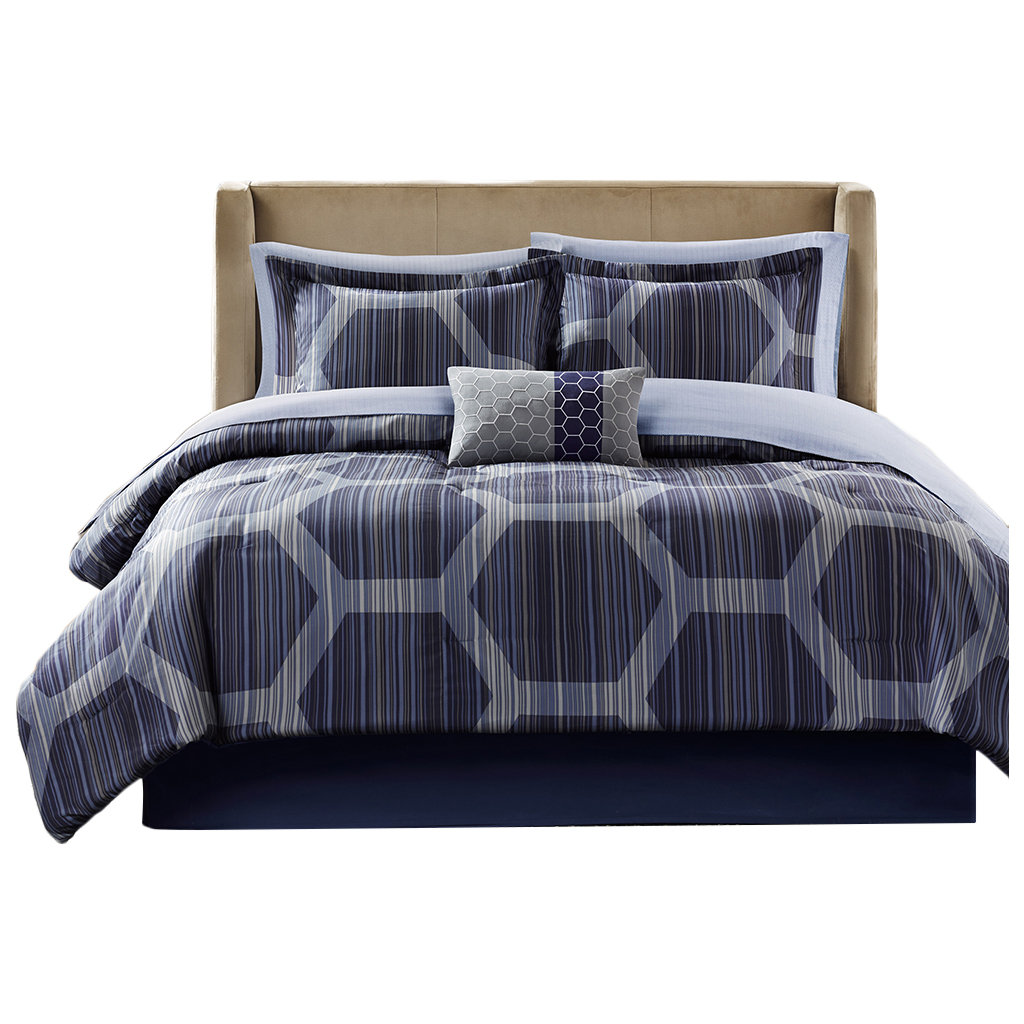 Modern Gray Geometric Pattern Bedding Set
Modern Gray Plaid Bedding for Teen Boys
I like this modern gray plaid bedding for teen boys because it has a rugged look to it that looks nice in the bedroom. The Ink + Ivy Nathan Comforter Set comes in a variety of sizes from twin to king size sets and includes the comforter and pillow shams. It's a look that is modern and stylish for a teen boys bedroom.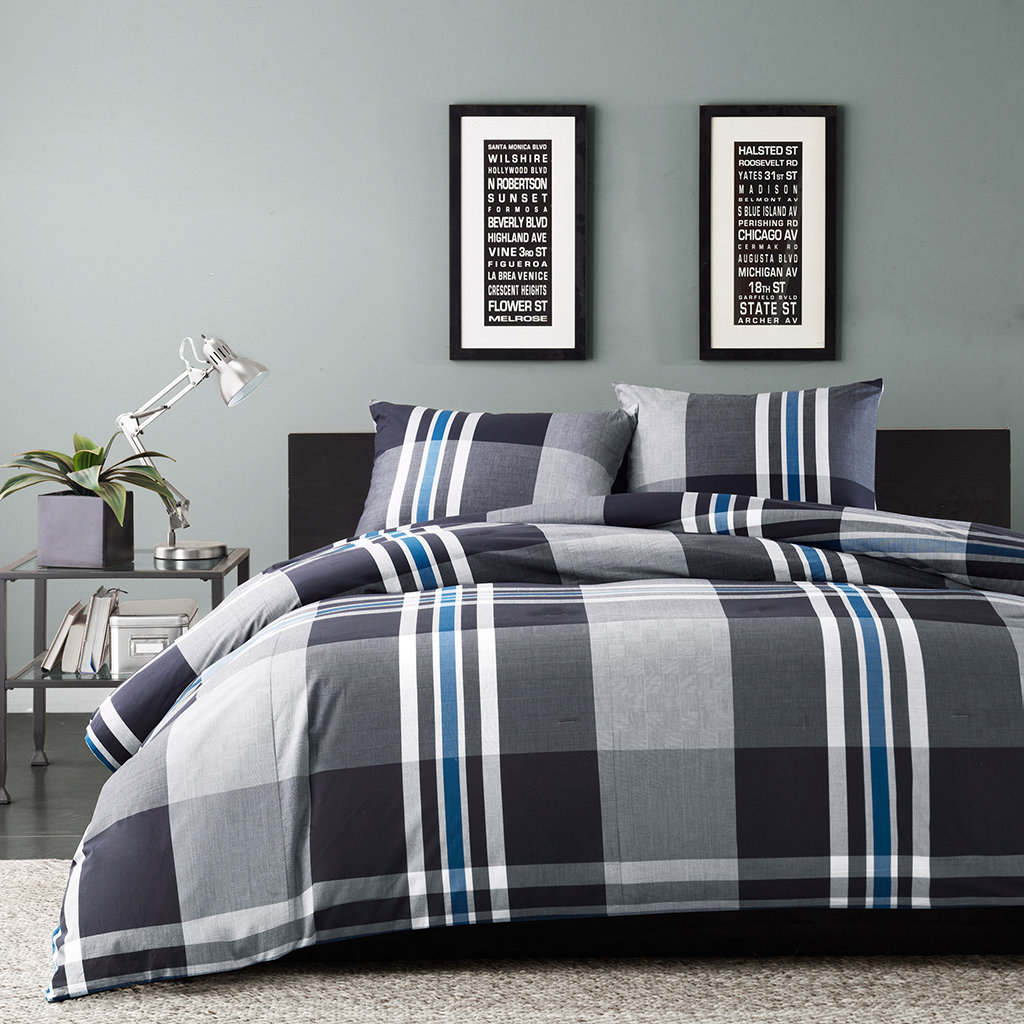 Ink + Ivy Nathan Comforter Set
Modern Grunge Blue Stripe Bedding for Teen Boys
This modern grunge bedding set has the perfect look for teen boys. It's big, fluffy and comfortable because it's made of 100% cotton. You can plop up on this cool comforter set and read a book, finish those song lyrics or do some much needed studying. This cool grunge indie look has style and comfort to the bedroom.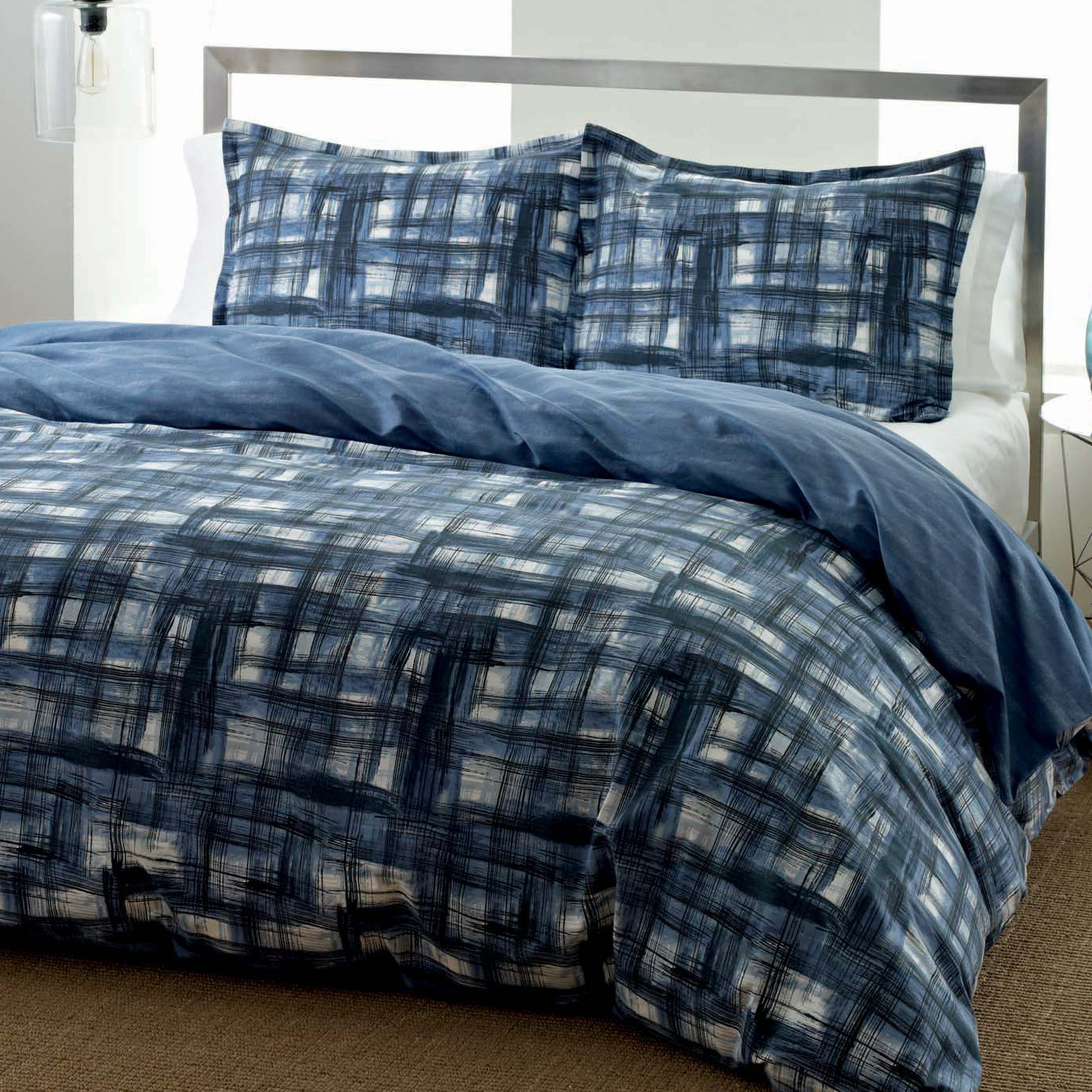 Modern Grunge Blue Comforter Set
Minecraft-Look Bedding Set for Teen Boys
This is a very popular bedding set for teen boys who desire to create a Minecraft-look in their bedroom. This square Minecraft duvet would work great if you are trying achieve a Minecraft theme bedroom.  This duvet set is available in twin size and queen size sets. One of the most popular of all the Modern Bedding Sets for Teen Boys.
Ikea Brunkrissla Duvet Cover and Pillowcases, Twin, Blue
Ikea Brunkrissla Duvet Cover and Pillowcases, Full/Queen, Blue
Navy Blue and Green Stripe Bedding Sets
Here are two navy blue and green stripe bedding sets for teen boys that have a modern look and contemporary style. If you like the way that Navy blue and green look together, you're going to love these two bedding sets.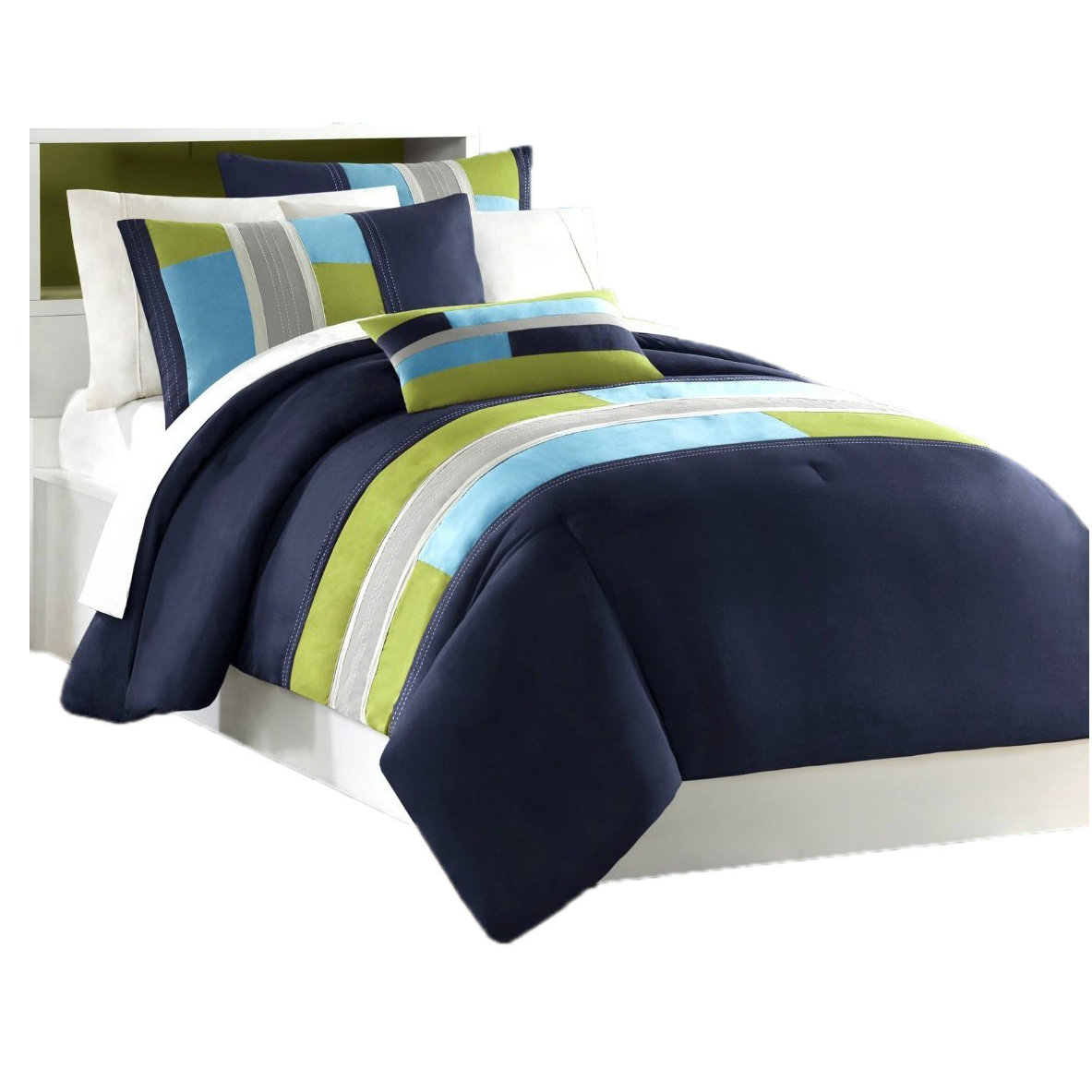 Mi-Zone Pipeline Comforter Set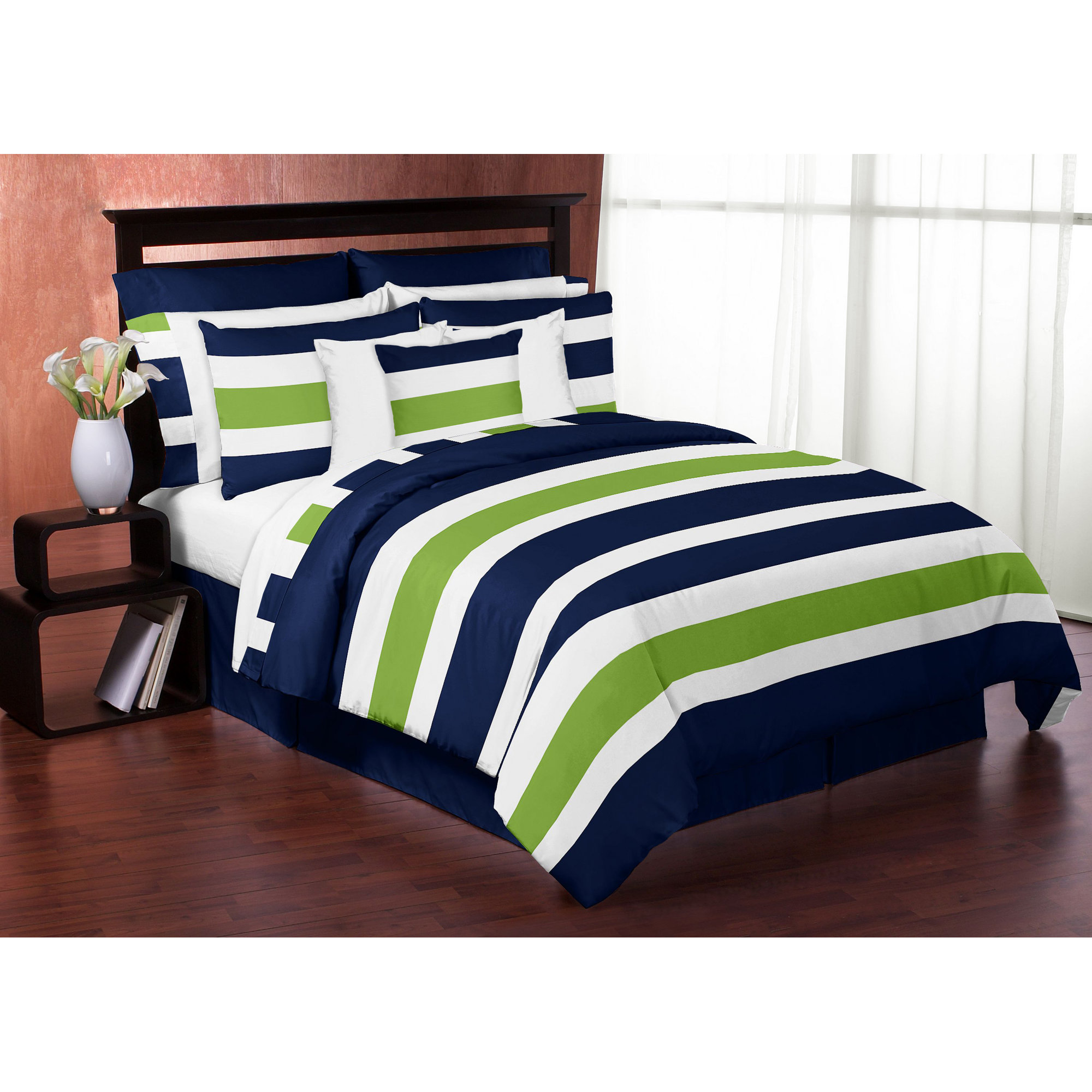 Navy and Lime Stripe Bedding Collection