Lime Green Bedroom Decorating Ideas 
Growing up in the 80's I'm familiar with bright colored fashions. Lime green bedroom ideas are very popular with young girls and teens.  Hot colors like lime green and pink are making their way back around. For Spring and Summer I love to add bright colors to our home decor. Lime green is one of my favorites! It's my way of inviting good vibes and happy thoughts into a room. Having bright colors around has always inspired me and as a designer.. I am always re-designing our interior with new and modern fashions.
I love finding new popular prints like animal prints and floral to combine with color schemes. I definitely change things up a lot, in the winter I use darker tons and autumn colors but when Spring is about to hit I'm all over the brights like lime green!
Curtains, rugs, pillows are all up for grabs when it comes to redesigning a room. I never just change the bedding or one thing. I put my whole heart into it. I love wall decals and stickers because they allow me to be creative without damaging anything. ha ha You can make an impression when you add some pretty polka dots to a lime green bedroom.
I had an OMG moment when I first came across this bedding!  Lime green is one of those colors that is remarkable when paired up with the right design.  This is one of those times when lime green is perfect for a new spring or summer look.  Toss out winter and light up your room with this Trina Turk lime green bedding set.
Here are some tips for using LIME GREEN in your bedroom: 
Lime Green Bedding Set – Choose a bedding set that reflects your color choice and personality.  Finding a bedding set first helps you design the room around it.  Most of the time the bedding is the focal point of any room.
Lime Green Wall – If you're going to use it on the wall, which is very retro and stylish – be sure to tone down the furniture by using colors like white and black. Lime green looks fabulous on the walls if you compliment it with the right furniture.
Lime Green Wall Decals – An inexpensive way to add some character to your bedroom is to add wall decals and stickers. They give personality to the room. There are lots of quotes you can use from famous artists, poets, bible verses and more. Freshen up the room easily with some fresh paint and wall stickers.
Lime Green Bedroom Curtains and Ties – A fun thing I like to do with bedroom curtains is first buy two sets. One set of black out curtains and one set of sheer curtains, you can do lime green in both but I like to contrast two colors like purple and lime green or hot pink and lime green. So find two sets of curtains, black out and sheer in lime green and another color that would work well. Next you want to find a curtain tie that you can use to add a little bit more color, it could be in lime green, hot pink or any color you think would be funky and fresh. You can make your own curtain ties too, just by using some fun fabric, maybe even an animal print? Sometimes I glue large gems on my curtain tie to really give the look some unique pizazz.
Most Popular Lime Green Bedding Sets
In every color, there are some prints that are more popular than others. Right now it seems that retro and vintage style prints are what's hot! Here are some of the best sellers in the color lime green and key lime green. Everything from fun funky circles and dots to more ornamental patterns…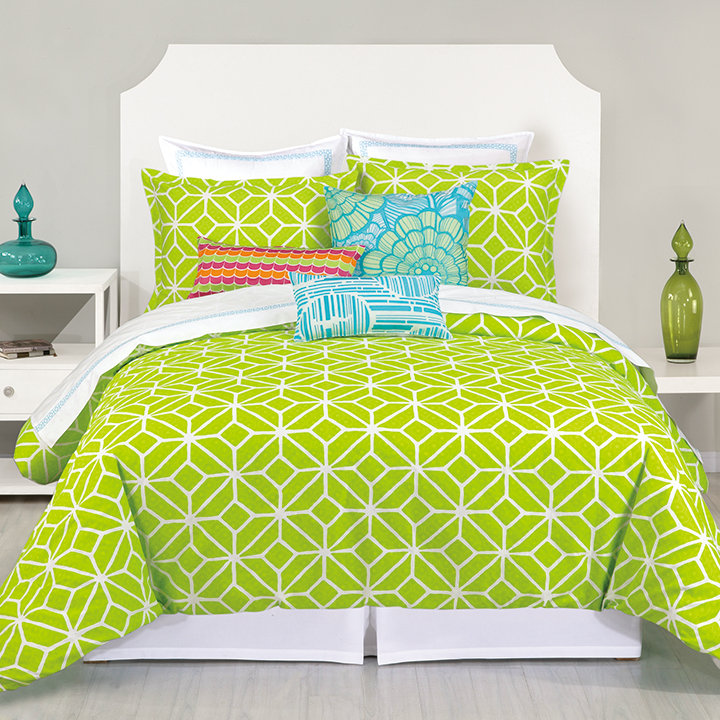 Trina Turk Residential Trellis Lime Comforter Set
Pine Cone Hill Scramble Key Lime Coverlet Collection
Lime Green in the Bedding & Curtains
Here is a great lime green bedroom combo, use the comforter and curtains to start…you can always start adding pops of color through throw pillows, lamps and other accessories – but the bedding set and curtains are a great place to begin your lime green bedroom transformation.
Victoria Classics Rose Fur 2-Piece Comforter Set, Twin, Green
2 PCS Solid Sheer Window Curtains/Drape/Panels/Treatment
 Lime Green Bedding Sets
Here are some of the most popular selling green lime bedding sets to choose from.  There are lots of ways to add lime green color to the bedroom, a bedding set is probably one of the most distinct ways to make the color standout apart from painting the walls (which I highly recommend doing).  When choosing a lime green bedding set be sure to choose the one that really captures the personality you want in the bedroom.  Your bedding set makes your design all the more special, choose the one the represents the style you're going for..
Girls Lime Green Zebra Print Bedding Set
This is a very popular lime green and black bedding set for girls.  It features a really funky zebra print design that girls love.
Lime Green Funky Zebra Childrens and Kids Bedding
Lime Green Wall Decals
Polka Dot Circle Dots Wall Decals
Lime green wall decals are one way you can add some of your favorite color to the wall. There are a lot of different lime green wall decals to choose from.  Wall decals are one of my favorite ways to decorate the bedroom walls because you don't have to be an artist to throw up a sticker, am I right?
Polka dot circles add color to the room in small amounts, you can use as many as you want.  You can add a substantial amount of color or just a few pops here and there.
Lime Green Curtains
Sun Zero Barrow 54 by 84-Inch Room Darkening Curtain Panel, Lime
Lime green curtains are one way to add "WOW" to the bedroom. I love using curtains as a part of my designs. Sometimes they are something as simple as sheer curtains with a nice blackout curtain panel over them. I love using sheer curtains in my designs, lime green is one of those colors I prefer sheer with because it's so bright and I love letting the sunshine come through it in the daylight.
Lime Green Art for Decorating
Platin Art Glass Wall Decor, Fresh Lemon and Lime, 20 by 20-Inch
I am always using art prints and posters to draw inspiration from in the bedroom. Something as simple as one picture can send me flying into a redecorating frenzy! One of my favorite things to do is use art through my designs. A lot of times art is the inspiration for my bedroom designs. I never leave the walls bare in a bedroom, and you shouldn't either.
Using Lime Green in the Bedroom
Lime green bedding is spectacular for Spring and Summer! Lime green, pink and green bedding, purple and green bedding, blue and green bedding and yellow and green bedding are popular in home fashions. Any store you look in now features some lime green comforters and decor for the bedroom. These are extremely bright and cheerful color combinations that make you feel happy.  Let a little sunshine in with these bright colored lime green bedroom ideas. Create the bedroom you always dreamed of in lime green color. Lime green bedding is a great way to brighten up your decor and add some life to a dull space.
One of the things that people love about using bright, hot colors in their bedroom design is how it makes them feel. Having a fresh look in the bedroom gives a feeling of peace to the people in the room. On many home maker over shows you always see them redesigning the bedroom with a fresh and modern look. This is because the bedroom is the place where people go to get away from it all. Turn your bedroom into a relaxing place with different shades of lime green and bright colors. Lime green is especially popular with tweens and teens and makes a bright and cheerful look in the master bedroom. Lime green blends beautifully with other colors like purple, pink, teal, black, white, yellow and orange. Lime green comforters can easily be used as part of a room design because it's so universal. Set the tone with lime green bedding in the bedroom.
Redecorate with Lime Green Decorative Throw Pillows
Lime green decorative throw pillows are fabulous for designing a bedroom or living room. Bring in the fresh look of spring and summer with lime green throw pillows. If you are looking to redecorate the room without a lot design experience, lime green throw pillows can be an easy way to change the entire look and style of an area. Transform your entire home decor with just a few simple lime green decorative throw pillows. There are hundreds of lime green throw pillows to choose from. No matter what taste or design you were going for, a lime green throw pillow can create a whole new look.  Make that lime green bedding stand out with a throw pillow.
Decorative throw pillows in bright green come in floral designs, animal prints (zebra, leopard, cheetah, or giraffe) and personalized monograms. There is a lime green decorative throw pillow for just about anything decorative look you can think of.  Don't be so quick to keep the design blahs in your home; use decorative throw pillows in lime green and other bright colors to cheer up the room. Create a fresh new look in your home decor with these bright green decorative throw pillows.
You can even create your own designs on these limes green decorative throw pillows, personalize them with your name, and choose from tons of styles and patterns. Throw pillows are the best way to change the mood of a bedroom or living room without having to do too much design work.  Don't be coming into spring with the same old look in your home decor; add these fresh vibrant bright green throw pillows to your bedding or living room area and transform the whole room. A throw pillow here and there adds a splash of color accents to the room.
 Durga Pillow Solids-Lime

 Get Your Lime Green Zzz Sleep Pillow

 LIME GREEN (solid fruity color) ~ Pillow

Lime Green Rugs
Now you're getting the idea!  Floor rugs are a great way to add character, color and charm to bedroom. A nice lime green floor rug can really open the room and give it that inviting look you're looking for.
 Lime Green, Yellow, Red Floor Rug Lime Green Black, Olive Floor Rug nuLOOM Veranda Green Filigree Outdoor Rug