Beach Theme Bedding – Live Like You're on Vacation!
Beach Theme Bedding Sets
Beach Theme Bedding is perfect for Spring and Summer. I personally love beach style bedding because the different shades of blues and aquamarines really have a calming effect. Bedding ensembles with a beach theme bring a fresh sea feel to your bedroom. Beach theme bedding adds a coastal look to the room that is inviting and comfortable. Everyone can relax at the beach, the ocean waves and sea breeze make it the perfect spot for some R & R. There are so many different types of beach theme bedding, there are more fun and fresh styles for children and teens and then there are more mature prints and color tones for adults in the master bedroom. Some people love to decorate their guest room with a beach style theme too. There are so many ways to capture the essence of the beach in a bedroom.
Sleep on the beach every night with your lover with gorgeous bedding and decorative beach pillows. Imagine yourself laying out on the beach with paradise surrounding you everywhere. You can easily bring this tranquil paradise into the bedroom with beach themed bedding and decor. Find new and unique ways to bring the beach into the bedroom.
Patchwork Beach Theme Bedding Quilt Set
I can definitely see this blue and green quilt set in a beach room. The colors are very calming and remind you of a getaway by the sea. Quilts are the perfect type of bedding for a beach theme bedroom.
Harbor House Crystal Beach Bedding Set
Escape to your own paradise by the sea with this breathtaking blue beach theme luxury bedding. It's got a certain charm that it adds to a room. If you're looking for a fresh, ocean feeling in your room, this set will accomplish it. Experience everything a beach theme has to offer with this amazing bedding ensemble. Watch as it captivates an audience and commands attention as the focal point of any bedroom. It's the quintessential beach theme bedding for anyone looking to capture the essence of the ocean. Includes one comforter, one bedskirt, and two standard-size shams.
Harbor House Coastline Comforter Set (Light Blue Beach Bedding)
Available in Twin, Full, Queen, King and Cal King sizes, this is the picturesque beach theme bedding for your beach house or bedroom. Bring in that fresh ocean feeling right into the room. What I love about this bedroom set is that you can work so many other cool beach theme decor items into the room with it. Some white sheer beach curtains and some other simple decor items would really bring out the charm in this set. Decorate with a true blue ocean feeling with this amazing beach bedding set from Harbor House. This set includes the comforter, bed skirt, and two large shams for a whole new look in your home decor.
Harbor House Seaside Bedding Collection
This gorgeous seaside bedding is perfect for your beach theme bedroom. This calming array of tones is perfect for anyone who wants to escape to an oasis in their own home. Snuggle up in elegance as you drift to dreamland in this seaside bedding set.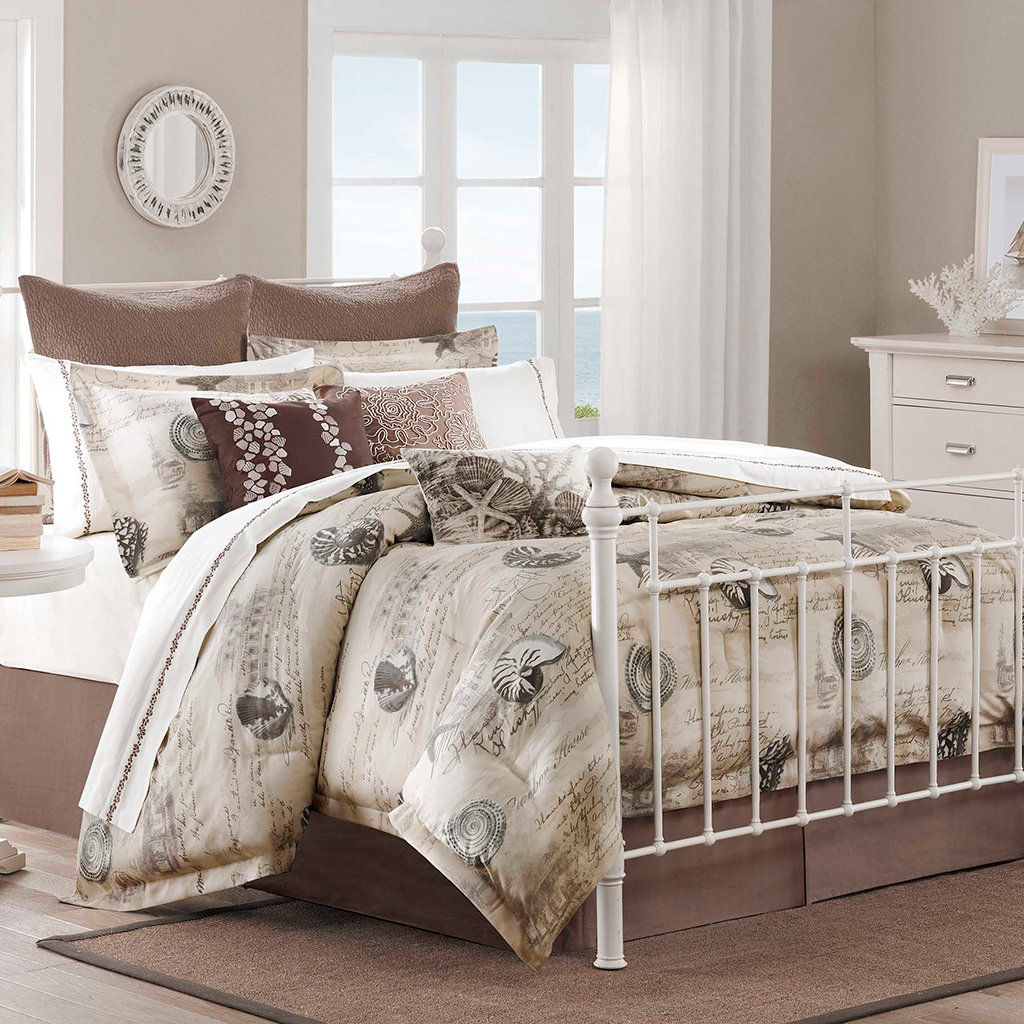 Electric Beach Bedding Set
This is one of my favorite non-traditional beach bedding sets because of how bright and vibrant it is!  This bright beach bedding set features colors that scream summer time fun. This is a fun teen beach bedding set that is available in a twin and full size set.  You can get the decorative pillows that are featured in the picture as well!  It all works so beautifully together!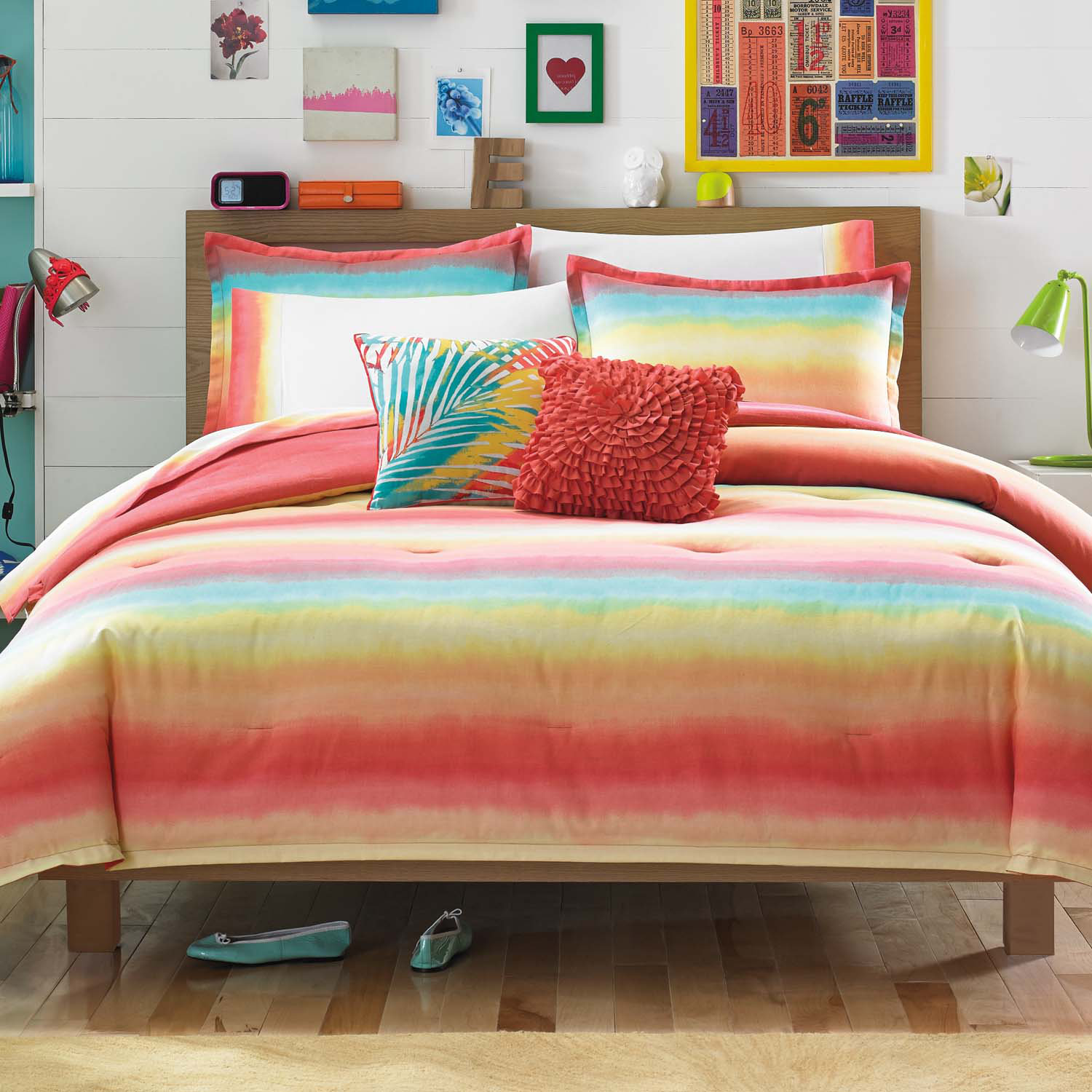 Tropical Beach Floral Bedding Set

Harbor House Arabella Bedding Collection
This Harbor House bed set features shells in brown and gold tones. If you want something subtle and beautiful in the bedroom, this is it. A beach theme bedding with a soft and delicate approach. You don't have to worry about whether or not this bedding has a beach theme to it or not. It's all beach. This set includes the comforter, two pillow shams and a bed skirt.
C & F Enterprises Fiesta Key Quilt
This orange, blue and pink reversible quilt set is the a blend an under the sea experience for the eyes. One side features a square pattered print with sea embellishments and the other side a reversible stripe mix of orange, blue, pink and white colors. It's a visual feast for the senses and it really brings out the beach flavor of the bedroom with its bright oranges and sea blues.
Shabby Chic Beach Bedding Quilt
This shabby chic beach quilt achieves everything I crave when it comes to a bedding set with a beach feel. This quilted bedding is the perfect blend of subtle beach blues and under the sea essences. The soft look of sea shells and coral reef is delicate and dainty. It's the perfect beach shabby chic quilt and it would look good with some weathered white wood furniture.
Sea Green Shells Quilt
This magnificent bedding ensemble features a lovely sea green quilt that features sea shells on it. It's available in twin, queen and king sizes and includes the quilt, two pillow shams and dust ruffle bed skirt. This would look nice in a guest room, master suite or teen girls bedroom. I love the mix of colors in this set, the sea green and ocean blue bring an outstanding color combination to the table. The palette is perfect for a variety of reasons, the two colors mesh well together and they also capture the essence of what is the beach in a fun, girlie way that teen girls will love.
"Virgin Islands Beach Scenic Window"
Seaside Theme Bedding Set
Kids Beach Theme Bedding Sets
Looking for kids beach theme bedding sets?  I know that when I was first designing  my sons room at our summer vacation home, I was looking all over for the perfect beach theme bedding set.  I ended up going with something nautical instead, which fit the beach style I was looking for in my design perfectly.
Boys Nautical Beach Bedding
Come sail away with this nautical themed bedding for boys. The set includes the comforter, fitted sheet, flat sheet, bed skirt and two pillow shams. The comforter has light houses, sail boats and compasses on a white background. Sheets are striped as shown. It's a whole bedding set just that captures the essence of a nautical lifestyle.
Flip Flops on the Beach Quilt Set
This quilt set is perfect for any girls room, it's a bright pink quilt that features flip flop sandals for a fun and coastal living style in the bedroom. This set comes with the quilt, bed skirt and two standard pillow shams. Any girl would love to have this in her room, there is so much you can do with a set like this.
Surfer Girl Bedding
This twin quilt set includes the one standard sham. It's the perfect bedding set for a teen girl because it features bright pink colors and surfboard print. I love the Hawaiian style about it.  It works great for a beach theme or tropical design in the bedroom.  The bright pink color really brings out the island tropical feel of the room.
Beach Life Quilt
If you are looking for a high end, luxurious little girls comforter set with a beach theme, this is it. Delicate and dainty with a picturesque beach appeal. Any dream beach room should include this set.  This unique quilted beach theme bedding is one of my favorites for a little girls room. It's made of the utmost quality and the design is truly timeless.
Girls Tropical Print Beach Style Bedding
Pink Green Blue Hawaiian Flowers Beach House
This pink, green,and blue hawaiian print style quilt set is so cute and has that girlie beach appeal that brings the rooms personality to life. There's just something happy and magical about Hawaiian prints and colors. This fun and stylish print bedding is the perfect blend of beach, fun and Hawaiian style.
Under the Sea Quilt
This pretty blue and green under the sea quilt set comes with a matching sham. Decorate your children's room with this gorgeous quilt set. You know it's gorgeous, the just color combination alone leaves moms itching to redecorate.